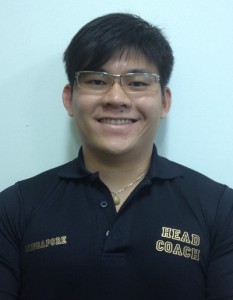 Founder and CEO of DE Sports Education Group
Mr Dion Eng was a competitive sportsman in various discipline. Born on 3rd Sept 1985, he took up tennis and badminton at the age of 7 in South View Primary School. By the age of 10, he was team captain of both racket sports and represented his school in competitions playing as 1st single for 3 years.
At the age of 13, he moved on to Greenridge Secondary School and was playing as a shooting guard for the school's basketball team for 2 years. At age 15 and 16, he represented his school's athletic team for the events, shot putt, discus and javelin. At age 17, he did his engineering diploma at Ngee Ann Polytechnic in which he took up gymnastics on a recreational level and went into competitive cheerleading.
At age 18, not only did he become captain of the cheerleading team, he also picked up squash and became the captain of the team too. During his national service, he was chosen to represent Air Force for table tennis and squash during the inter formation games. Dion started his professional teaching career in 2004 and has been constantly improving the quality of athletes under his care.